Religious Education (RE)

Please scroll down to find our RE curriculum overview and information about progression in RE.
At St Clement Danes our Christian vision is at the core of everything we do; we foster spiritual and moral development within a caring Christian community.
We want all our pupils to flourish through the provision of high quality religious education.
Religious Education (RE) is an important way in which the school's deeply Christian vision is expressed. In line with the Church of England Statement of Entitlement, we believe that every child should be enabled to flourish and live life to the full, by educating for dignity and respect and encouraging all to live well together.
Whilst we remain true to the Christian faith underpinning our Church of England School, we have a deep respect for the integrity of other religious traditions and world views and for the religious freedom of each person in our school community. This is reflected in our RE curriculum and reflected in the vision and ethos of our school.
RE is a core subject which is taught discreetly, with each class receiving a minimum of 1 hour each week (along with additional whole-school RE days during the school year, such as the feast day of St Clement). RE is taught from the LDBS syllabus with enquiry-based learning. Our rich and varied curriculum includes units on Christianity as well as other world religions and relates strongly to our multi-faith community, reflecting our local context. We aim to provide children with an understanding of what it means to have a faith and to develop an informed opinion on beliefs and values.
Through effective curriculum planning and high-quality teaching, RE provision at St Clement Danes develops children's religious literacy. It helps pupils know about and understand Christianity as a living world faith through the exploration of core theological concepts using an approach that critically engages with texts.
Being religiously literate enables children to:
hold a well-informed conversation
develop an aptitude for dialogue
have greater awareness of the world in which we live
develop their own views and opinions based on knowledge and understanding, with a respect that others will think differently to them
understand, interpret and evaluate texts, sources of wisdom and authority and other evidence
RE helps pupils to develop knowledge and understanding of other major religions and world views and their impact on society and culture.
RE provides a safe space for pupils to critically reflect on their own religious, spiritual or philosophical convictions.
RE is multi-disciplinary. Through a balance of these disciplines we empower children to have conversations that are informed.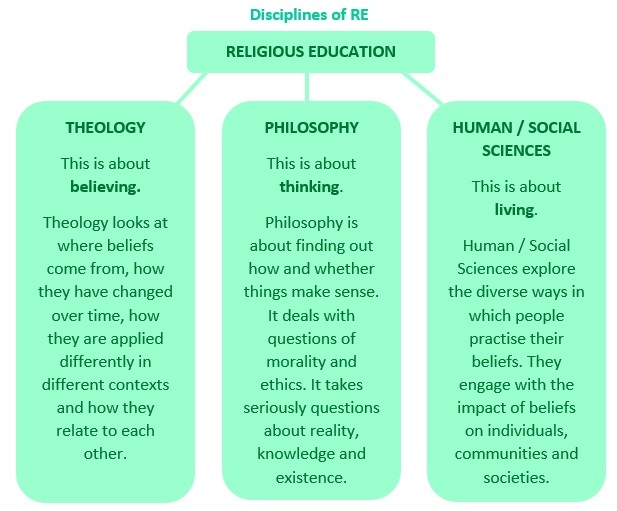 RE provided children with the academic opportunities to become free-thinking, critically aware and compassionate adults.
Teachers share practice locally and engage in professional development through the London Diocesan Board for Schools family and through strong partnerships with our local churches and schools.
Please click the blue links below for more information about our RE curriculum:
More information about R.E. in the Early Years