Remote Learning (COVID-19)
Remote Learning 2020-21 (Covid-19)
What is our approach to Remote Learning? Please click the blue bar below and also scroll further down this page:
Remote Learning: A Guide for Parents
Please know that our staff team is dedicated to doing all we can to support you through this time and we are so looking forward to welcoming you back to Drury Lane as soon as possible!
Enormous thanks to you all for your brilliant efforts with Remote Learning during this time. Each family is of course different, with its own context, space, resources, commitments and challenges. We are so proud of, and grateful to, all of our children, parents and staff – what a marvellous team!
Thank you for the all feedback you've given to our school staff; it is much appreciated. We continue to constantly review and develop our provision to do our very best for your child and family.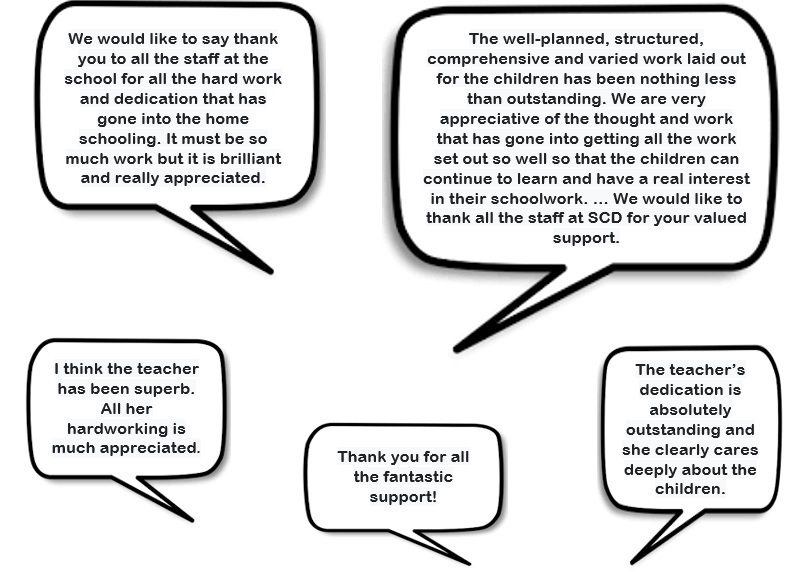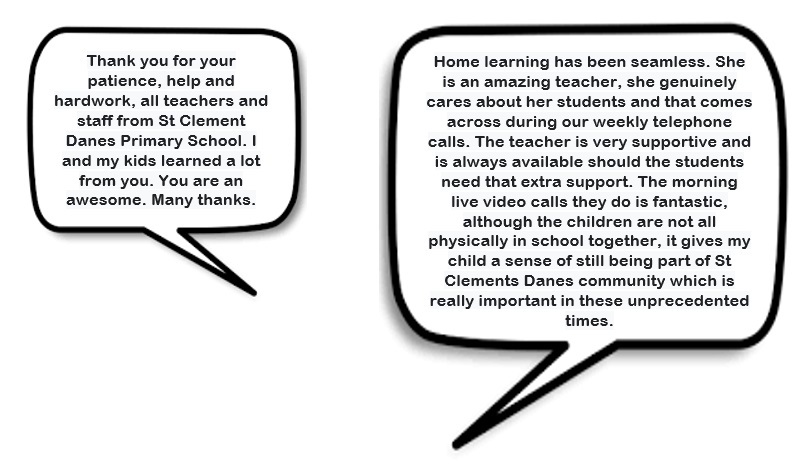 January - March 2021
Below is an overview of Remote Learning for the period of national Lockdown. We have taken great care in reviewing the feedback that we received about home learning last year and will continue to constantly review and develop our provision to do our very best for your child and family.
This term we will be using Google Classroom to help facilitate Remote Learning for children: Google Classroom
Google Classroom is a free online platform that aims to simplify distributing and assessing learning in a paperless way. St Clement Danes' teachers have received Google Classroom training, bespoke to our school.
Google Classroom is a free resource that can be accessed by families from any device connected to the Internet (including laptops, desktop computers, chrome books, tablets or mobile phones).
During this period of lockdown, Google Classroom will be open every term-time weekday between 9am and 12.30pm and then again between 1.30 and 3pm.
An account has been created for each pupil. Children have their own unique username and password.
As well as accessing resources and videos from their teacher, children can use Google Classroom to upload work that they have completed and teachers respond with comments and feedback.
Please note that your child does not need constant access to a device at home to work effectively with Google Classroom. Your child will be able to work away from the computer or device and then can upload a photo of work they have done to show their teacher.
We do understand that some families prefer to minimise work on computers and screens. When teachers call, please flag this up and we will work with you to ensure your child can learn during this period.
Teachers have prepared Weekly Learning Sheets that will be uploaded to Google Classroom the Friday before the week ahead.

These sheets will provide an outline of daily learning for each class. The overviews for this week's learning have also been uploaded to the school website here: Weekly Learning Sheets.
An overview of the daily learning tasks is given on the Weekly Learning Sheets. Additional resources with further detail and guidance from teachers are also be provided in Google Classroom.

For children in Key Stage One and Two, each day there is a learning task for English, Maths and for other subjects in the afternoon, such as Science, RE, PSHCE, Music, Spanish, Computing, DT or Art.

There is also guidance for daily PE and activities to support children's wellbeing.

There will also be phonics, reading and spelling work where appropriate. Children in the Early Years will be following their EYFS curriculum.
Video sessions, including pre-recorded videos from teachers and live 'Google Meets' via Google Classroom, will be used to help keep contact between home and school and to support Remote Learning.

Class 'Google Meets' are timetabled at staggered times each morning so that siblings who are sharing devices can participate if possible.
Newsletters are provided by teachers with information about the term's curriculum, learning targets and additional resources for learning, including suggestions for daily timetables and routines.
Further information about the curriculum can also be found here:
School Newsletters with weekly news, information and updates are published at the start of each week and are available in the News section of the school website: School Newsletters
Blogs with further support and suggestions are published on the school website: School Blogs
For additional resources and suggestions for Home Learning, please click here: Further ideas for Home Learning
If you would like any further support, guidence or suggestions, please always feel free to contact your child's class teacher and they'll be happy to help.
For important information and advice about keeping safe online, please click here: Staying Safe Online
Further resources are available to support children with SEND and their parents: SEND Support
Our Inclusion Leader, Ms Francis can be contacted via office@stcd.co.uk
If you need someone to talk to or would like any further support, please don't hesitate to get in contact and we will be happy to help in whatever way we can.

For further support with Remote Learning, teachers can be contacted via the class email addresses further support with remote learning. Teachers also contact families via telephone.

Remember that as the support of our well our wonderful staff, including our Family Practitioner Viv Sanassy, school also offer the support of an Education Mental Health Practitioner Rosie Wilkinson: click here for more information.

Contact: office@stcd.co.uk

We do ask you to ensure there is some daily contact between your child and their class teacher (for example, by attending the Google Meet, uploading work or a brief email). We will be keeping daily registers for remote learning and these are monitored by the headteacher. If we don't hear from you we will call, so please do keep in contact with us.

Class teachers would love to see your child's work each day, but we do understand that during the pandemic there are many stresses and pressures on families. Class teachers are always happy to talk with you and discuss how school can support you in your own unique circumstances.