Latest News
Happy Hanukkah!
Posted on: 25/11/2021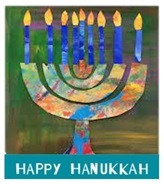 This Sunday will be the start of Hanukkah, the Jewish Festival of Lights!
This morning we have been learning more about Hanukkah with Mrs Waine.
We heard and reflected on the story of the miracle in the Temple and we found out about some of the ways that Jewish people may be celebrating Hanukkah this year.
Thanks so much to Mrs Waine for sharing with us all today.
Happy Hanukkah!