Latest News
'The Aristocats' at The Peacock Theatre
Posted on: 22/06/2022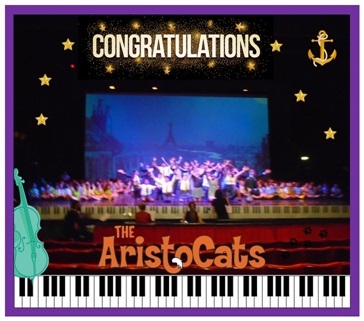 Wow!! Congratulations on a suPURRb performance. We had a feline that this would be a show to remember but our fabulous cast of children truly excelled!
This afternoon, our whole school, from Nursery to Year 6, once again took to the West-End stage - at Sadler's Wells' Peacock Theatre.
This afternoon's story of The Aristocats was set in 1930s Paris and was about two groups of cats: aristocratic cats and alley cats who learnt about the value of friendship. This is a value treasured by St Clement Danes and we see so many shining examples of this in our school community each day. We also know that our Year 6 pupils will take this value with them on the next stage in their journey to secondary school.
Thanks to everyone who came along to this afternoon's performance. Thanks to our parents for all the work they have done 'backstage' at home, helping with line learning, costumes and generous donations to the school fund. Your kind donations to the School Fund help support enrichment activities for our children. If you haven't already had a chance to donate, please do so via the School Gateway: click here. Thank you!

We are very grateful to our school Governors and Trustees for their ongoing commitment to the enrichment of our children's education. This afternoon's show could not have gone ahead without the generous support from our Trustees. It is an extraordinary and unique privilege for our primary school to perform on a West End stage and the children will remember this day for the rest of their lives!
Our thanks to The Peacock Theatre for kindly hosting us and to all the skilled technicians and talented band of musicians behind the scenes who helped to give our show such a professional finish.
Huge thanks to all our school staff who have done a wonderful job. They worked so hard to put this show together, with such enthusiasm and energy – what a team!
The final word of course goes to our children - the spectacular West End starlets, the cast of The Aristocats!