Latest News
Year 5 visit the Royal Hospital in Chelsea
Posted on: 24/02/2023

Today the Year 5 students of St Clement Danes School embarked on an unforgettable journey to perform at The Royal Hospital Chelsea, as part of their intergenerational project.
This unique experience was nothing short of remarkable, leaving a lasting impression on both the students and the elders alike.
Back in the Autumn of 2022, Year 5 met and interviewed three Chelsea Pensioners, Janet, Peter and Marjorie, when they kindly visited our school. Through workshops with Anna the Storyteller, the children explored, rehearsed and performed retellings of the elders' fascinating life stories.

Having already performed to their parents and to the Chelsea Pensioners at school in November, today Year 5 had the honour of performing the stories again; this time at the Royal Hospital in Chelsea!
Upon arrival, the elders showed an unprecedented level of enthusiasm and excitement, eagerly arriving early to secure the best seats for the show. Even the infirmity ward elders, who are rarely able to venture outside, made a special effort to attend, drawn by the prospect of witnessing the pupils of St Clement Danes in action. As if that wasn't enough, a 101-year-old veteran who had escaped from two prisoner of war camps was also present, amongst other fascinating individuals with remarkable stories.
As the elders entered the room, our pupils greeted them with a rousing cheer, making them feel like celebrities. The joy on their faces was palpable, and it was truly heartwarming to see the bond forming between the young and the old.
The pupils were completely spellbound by the stories they heard, and it was clear that the elders had so much to share and teach.

One of the highlights of the trip was a 'saluting lesson' given by one of the Sandringham experts, which the students thoroughly enjoyed and took very seriously.
The performance itself was simply incredible, with beautiful singing and masterful piano playing by one of our children. The atmosphere in the room was electric, and it was impossible not to be moved to tears by the end of the show.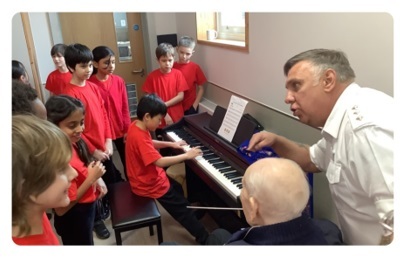 The pupils left with a newfound appreciation for the elders, and they can't wait to see them again at our school's Oranges and Lemons festival next week.
The bond formed between the young and the old was something truly special, and it was a privilege to witness it firsthand.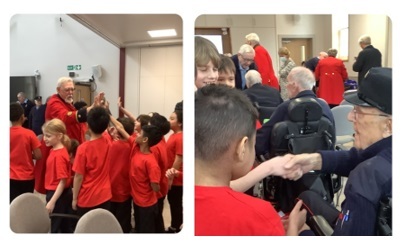 We are so grateful to Anna the Storyteller for leading this wonderful project for us.
Overall, this intergenerational project was an overwhelming success, and The Royal Hospital is eager to continue building on this relationship in the future. It's a testament to the power of community and the importance of bridging generational gaps, and it's something that the students of St Clement Danes will undoubtedly carry with them for the rest of their lives.
To find out more about how we began this project, click here:
Intergenerational project - Part 1